Email Marketing Templates
At Campaignmaster, we know how important it is for your email campaigns to not only look perfect in design, but render perfectly too.
Our designers begin work on your templates by gathering all your requirements including brand colours, logos and the type of communication you are conveying with your template. They will then design multiple templates for you to choose from.
Furthermore, with more and more emails being read on mobile phones, it's more important than ever to ensure your emails are coded correctly to give the best mobile viewing experience. So, when you receive our designs, rest assured the mobile experience will be just as good.
You also don't have to worry about your branding being compromised as there is no mention of Campaignmaster in your email templates. Why not take a look at a sample of templates we have created:
View Gallery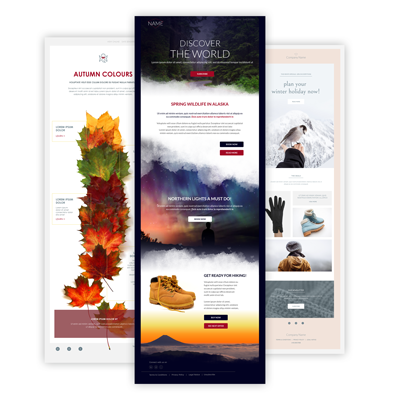 It's great to have choices, especially when it comes to how much we want to get our hands dirty with email marketing! If you're a coding ninja, then you may prefer to hard code your campaign from scratch. If that's the case, our Open HTML editor is the one for you as it gives you free reign over how your content displays. You are able to copy and paste your own HTML code or upload external HTML files and change as required.
If you are looking for an easy way to build your email marketing campaigns, with minimum bother, then our Drag and Drop editor could be just what you are looking for. For starters, you have a plethora of templates to choose from. You can use one of ours (completely free of charge) and just replace with your icons, colours and content. All our pre-built templates are also all mobile ready, so they'll look great whether they're viewed on desktop or mobile devices.
Alternatively, you can design and build your own template and even here you have choices. Go in with a blank canvas and design from scratch or pick a pre-defined layout to give you a heads start. We have created our Drag and Drop editor with the email marketer in mind. We strive to make building email campaigns simple and effective. But just because you're using a Drag and Drop editor, doesn't mean you have to compromise on features and creativity.
Our Drag and Drop editor is jam packed with so many time saving, neat features that you'll want to use them all at some point or another!
These are just some of the many features available in our versatile Drag and Drop editor. There are too many to list here so we encourage you to book a personalised demo and explore further:
Free Demo